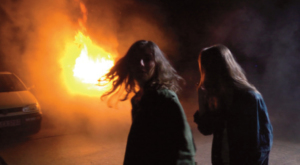 Unannounced, Aziza is once again standing in her room – internship, Portugal, everything canceled. But her room is occupied. Her mother, Trixi, has rented it out. Zach lives there now, a twenty-something from New Zealand, who came to Germany on a one-way ticket. Starting from this situation, the film develops an almost documentary-style portrait of a Kreuzberg 'situation': everything is readily available, time, people, summer, streets. And in the end a crash, the film itself: 'for nothing'?Clustering together in a neighborhood, sitting on the street doing nothing or very little, does this have a method? Is there something 'meant' by the Kreuzkölln situation of sitting-in-the-sun, using the streets like a bar, and singing on the streets – even if no one is even trying to 'mean' or 'say' anything? And yet: this use of the city, persisting on getting by without money, insisting on having time, this 'demonstrates' something. And what if it were just a way of reacting to the word 'crisis'? To film the condition and to capture a story in it. People that live here, others that have joined them, stay for an undetermined time, leave, interrupt, also just to end this story altogether.
Premiere Berlinale Forum Expanded 2014
Kinostartpremiere 10.7.2014
Freiluftkino Kreuzberg 21.30
umsonst / for nothing  93 Min. DCP., 2014 . engl./deutsch with engl. subtitles
spielfilm .
mit ceci chuh, elliott mckee & vivian daniel, imri kahn, pascale schiller, seyneb saleh, nik geene, mathis schulze, chloe lewer u.a.
kamera volker sattel/thilo schmidt
ton manja ebert
ausstattung nelja stump
requisite bea kosubek
schnitt bettina blickwede/ claude grasz
sounddesign jochen jezussek
regieassistenz karolin meunier
aufnahmeleitung angela anderson
ausführende produzentin caroline kirberg
musik holger hiller  charity children  mutter  cobra killer
produktion bbooksz av mit joroni film, waveline
idee&regie stephan geene